The Importance of MPS Models in 2021
News and Blog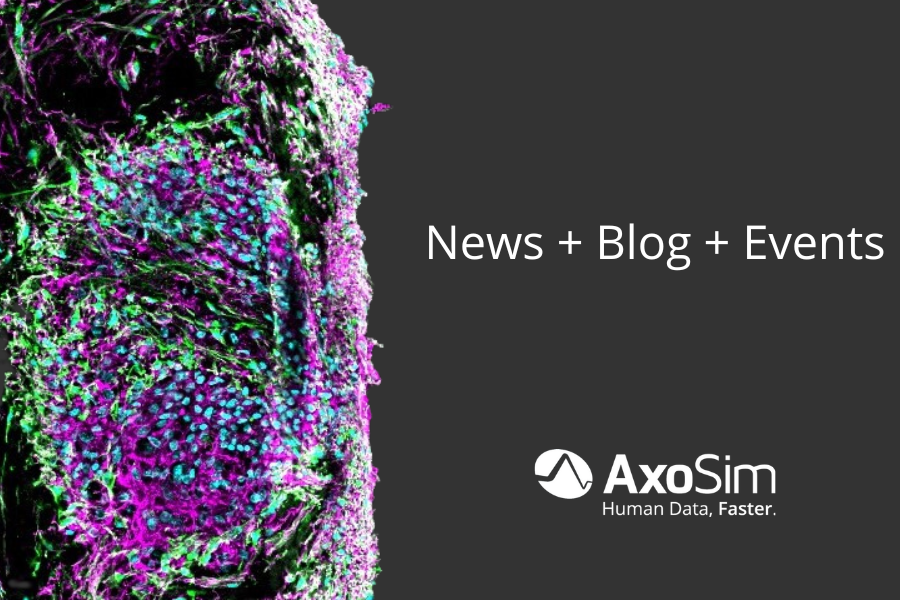 2020 has been a rough year in so many ways – but this year, we've also seen many outstanding advances here at AxoSim and great progress in the microphysiological systems (MPS) field, in general.  MPS technologies were used to advance research in a number of high need therapeutic areas, including COVID-19 research. Notably, we are encouraged to see significant growth in adoption of MPS models in pharmaceutical development across target tissues and modalities. More and more industry leaders now recognize the transformational potential of these platforms to bring therapies to patients more efficiently than ever before. 
Preclinical models that accurately mimic the human body are becoming essential for developing a new generation of drugs, especially in finding cures for the most devastating neurological conditions. Many of these new drug modalities, such as gene therapies, have strictly human targets. As a result, we predict that human models (including patient-derived disease models) will become the primary tools to generate meaningful preclinical data. However, it will take organized collaboration between MPS developers, the biopharma industry, and regulators, to usher in this new era.
In this spirit, I am honored to step into the role of President of the North American 3Rs Collaborative (NA3RsC) in 2021.  The NA3RsC is an organization that seeks to Refine, Reduce, and Replace the use of animals in research. Along with great colleagues from Mimetas, Novartis, Seagen and GSK, we co-founded and launched the MPS Initiative within the NA3RsC, to increase adoption of MPS technologies in research. This first-of-its-kind MPS industry consortium now includes 26 key companies in the emerging MPS field and our work will focus on four key efforts: (1) develop a system for interactions with key biopharma stakeholders, primarily the IQ Consortium-MPS Affiliate, (2) establish a dialog and present use-cases to advocate for MPS data in regulatory filings with regulatory authorities such as the FDA, (3) create education resources for all researchers, regulators, and biopharma executives, and (4) establish an online hub to showcase MPS models, organs, and use-cases already being offered commercially in one centralized location.
We are also excited to announce the formation of  the inaugural MPS World Summit, which will take place virtually in 2021 and then in-person (in New Orleans!) in May 2022,  co-chaired by Dr. Thomas Hartung (JHU/AxoSim), Dr. Don Ingber (Harvard/Emulate), and Dr. Suzie Fitzpatrick (FDA). I am privileged to co-chair the steering committee, alongside colleagues Dr. Lorna Ewart (Emulate) and Dr. Jan Lichtenberg (InSphero). This annual conference aims to become the central meeting for our field across industry, academia, not-for-profit, and regulatory agencies with the goal of creating the first formal scientific society dedicated to the MPS field. Please stay tuned for more updates!
For 2021, I am encouraged by the impactful work we continue to do at AxoSim, and I hope we can continue to build  partnerships to advance the entire MPS field. If you would like to learn more about – and be involved in – these initiatives, please don't hesitate to reach out. I hope you and your loved ones have a happy, healthy (and socially distant!) holiday season.
Sincerely, 
Ben Cappiello
Ben Cappiello is the Chief Business Officer of AxoSim, Inc., a premier provider of neurological drug discovery platforms. He is also the incoming President of The North American 3Rs Collaborative.