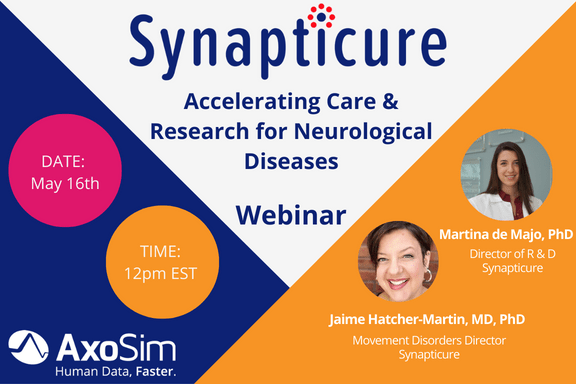 ALS Awareness Month Webinar w/ Synapticure: Accelerating Care & Research for Neurological Diseases
Speakers: Martina de Majo, PhD, Director or Research & Development at Synpaticure and Jaime Hatcher-Martin, MD, PhD, Movement Disorders Director Synapticure.
We're honored to share that in recognition of ALS Awareness Month, AxoSim has invited the Synapticure team to highlight their incredible work in patient care and research for those living with ALS and other devastating neurodegenerative diseases.
Synapticure is creating a teleneurology hub where all patients diagnosed with ALS can have access to accurate information and resources to help them find the care and support they need to navigate their medical journey. Their patient-first approach with dedicated care coordinators for each patient, brings a human touch to a devastating diagnosis. They are also developing an extensive biobank of ALS patient samples to create powerful tools for researchers and drug developers, including patient-derived cells and organoids. In this webinar, Director of Research and Development Martina de Majo,PhD, and Director of Movement Disorders Jaime Hatcher-Martin, MD, PhD, will join us and take us through their work and what they are doing to accelerate research and care.
View Webinar