Q&A with Research Assistant Intern Andrew Terrebonne
News and Blog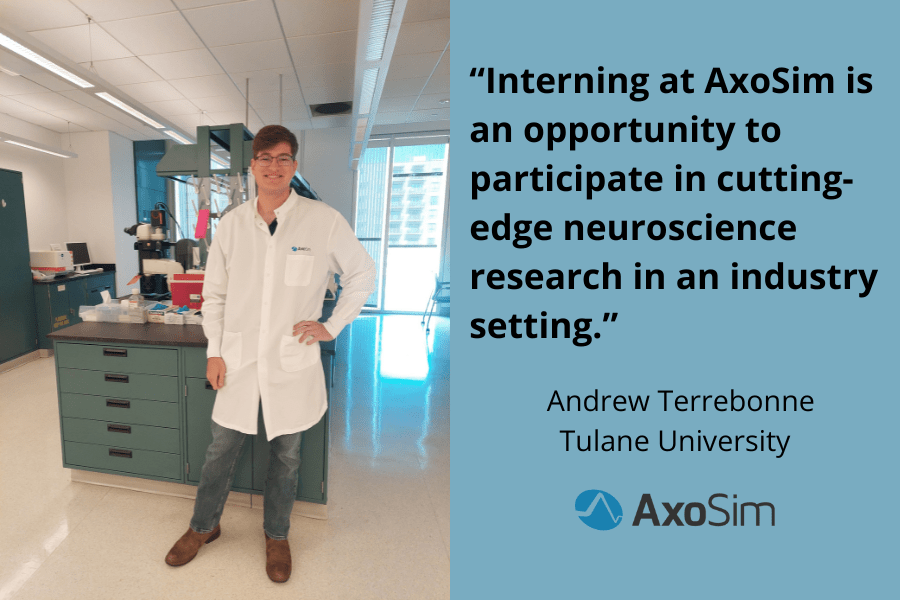 Tell us the school you attend, grade level and major.
I am currently a senior at Tulane University majoring in cell and molecular biology.
Why did you want to intern with us at AxoSim?
While doing research at an academic lab at Tulane, I became interested in research as a career. When I learned about the company through a family member, I saw that the company presented a unique opportunity to participate in cutting-edge neuroscience research in an industry setting. Being able to take part in such innovative research so early in my career was a huge selling point when I was applying for internships, and I am overjoyed that AxoSim has given me the opportunity to work with them. AxoSim's neuroscience research platforms support preclinical drug discovery into neurodegenerative diseases and disorders such as ALS, Alzheimer's, MS, and Peripheral Neuropathy.
Describe a day in the lab as a Research Assistant (RA) at AxoSim
I show up for work at 9AM and begin to prepare for my daily tasks. At 9:15, all the RAs and the scientists on duty meet to discuss the plan for the day. RAs then start to complete their assigned tasks, often collaboratively with other RAs and an observing scientist. RAs often assist each other with tasks when there is a heavy workload for the day. Projects consist of running neuroscience-based assays for clients on our two drug discovery platforms NervSim® and BrainSim®. On a typical day, everyone eats lunch with each other in the break room. Lunch breaks at AxoSim allowed me to learn about and integrate with the team very quickly. Lunch with the company immediately appeared to me not just as lunch between coworkers but as a meal among a group of friends.
How is the RA role helping with your academic studies?
I've learned about many of the methods and technologies AxoSim uses in my college classes. However, teaching labs have yet to adopt these technologies into their curricula. Interning here has allowed me to gain hands-on knowledge of these technologies, granting me a more in-depth understanding of my studies than I would have had without interning at AxoSim.
What are your goals post-graduation?
Nothing is fully set in stone yet, but I am leaning towards enrolling in a doctoral program after gaining some more work experience, hopefully here at AxoSim.
When not working at AxoSim or at school where can we find Andrew?
I enjoy the outdoors—camping, hunting, fishing, you name it—and cooking, but most of the time you can find me around New Orleans. There is so much to experience in this amazing city, and I likely won't be leaving anytime soon