Meet AxoSim | Summer 2023 Conference Schedule
News and Blog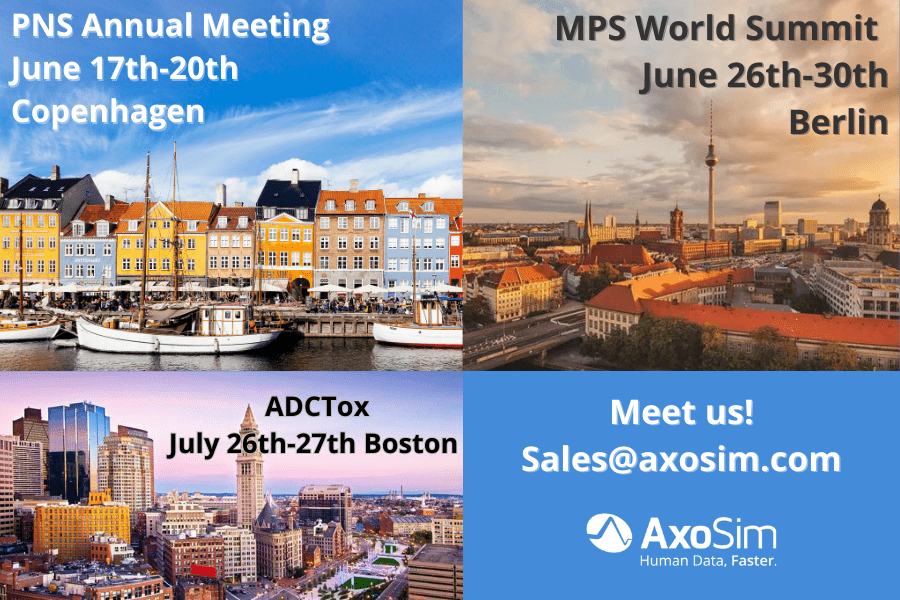 On the Road with AxoSim's Conference Team | Q&A with Senior Business Development Manager Chelsea Richardson
What upcoming conferences is AxoSim a part of this summer?
A portion of our team will be headed to several conferences in the upcoming months, and even some international! We will be headed to exhibit on our NerveSim® platform at the Peripheral Nerve Society 2023 conference in June in Copenhagen, Denmark. Following that we will be taking a high-speed train down the road to exhibit and present on both our 3D in vitro models, NerveSim® and BrainSim ® at the Micro Physiological Systems (MPS) 2023 World Summit in Berlin, Germany. AxoSim is a proud sponsor of the MPS World Summit. When we head back to the states, we will be exhibiting on our Neurotoxicity screening platforms at 2023 ADCTox in Boston, Massachusetts in July. And that is just this summer! We also plan to present several scientific abstracts through out fall and winter 2023!
This is a lot in one summer! Take us through the planning and logistics for coordinating these events.
Luckily, we have a well-oiled machine with our conference team on both the logistics and exhibit teams. We have processes in place that allow us to track each step of the conference process and let each participant know what is to be expected to be provided to them as well as what they are expected to pass along to the next team member. The goal is to make everything as streamlined for the on-site team to be able to utilize the conference exhibit and presentation environment to their best ability to market AxoSim's offerings.
Biggest obstacle in conference coordination?
Surprisingly to me, shipping. It is the one task that we can not control that carries with it several of its own obstacles, like weather related delays.
Biggest goals you hope to accomplish while travelling this summer?
Conferences are a chance for us to talk with a wider variety of individuals and companies that have a common interest related to the conference topic but may not realize they could use companies like AxoSim to partner in their preclinical research and drug discovery efforts. Its way for us to highlight our brand, mission and cutting-edge platforms to specialty groups in an in-person setting.  We learn so much at every conference we go to and make connections that we would be unable to make via other outreach efforts. Conferences offer such a high population of specific specialty areas in one location.
What do you most look forward to when travelling with the AxoSim team?
The wide variety of conversations I have with individuals that I may not have normally met and the things that I learn from each one of them.
Any good planning advice you would like to share?
You cannot plan for everything and being able to be flexible and roll with the punches is your best friend to still having a successful conference in light of any hurdles you may encounter.
AxoSim Summer Conference Schedule
PNS Annual Meeting | June 17th – 20th | Copenhagen, Denmark
MPS World Summit | June 26th– June 30th | Berlin, Germany
AxoSim is a Silver Sponsor
Exhibiting Booth #2
3 Scientific Posters | Poster #146 #152 & #183
ADC Tox Summit | July 26th & July 27th | Boston
Contact Chelsea today to schedule a time to meet with her or stop by our booths to say hello in person this summer.