Key Takeaways from Webinar: Human Schwann Cells: Importance for Peripheral Neuropathy Preclinical Research
News and Blog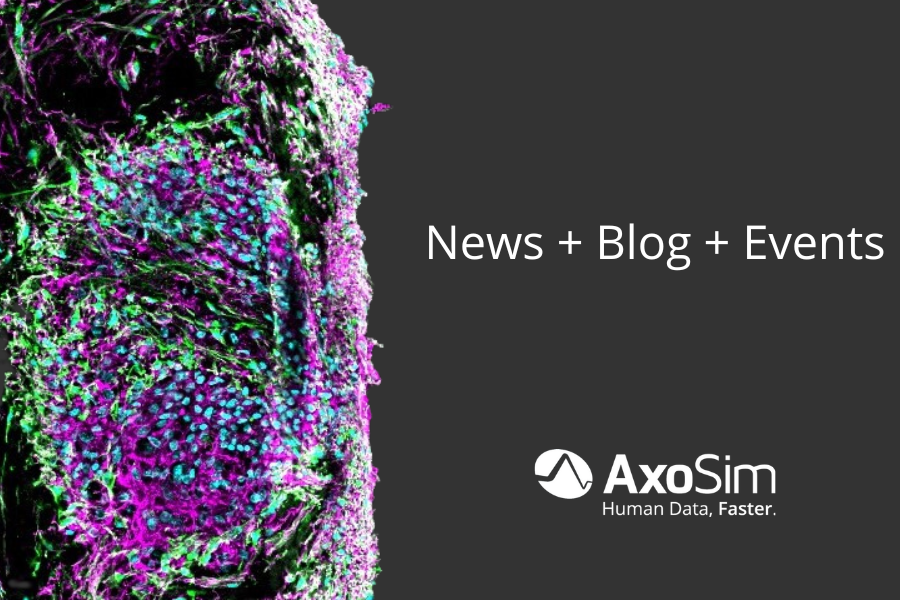 On Wednesday, September 30th, AxoSim Lead Scientist, Anup Sharma, PhD, spoke at our interactive webinar: Human Schwann Cells: Importance for Peripheral Neuropathy Preclinical Research. During this webinar, Dr. Sharma spoke about AxoSim's Human Peripheral Co-Culture Assay, which uses Human Schwann Cells and iPSC-derived neurons to recapitulate the data that one can expect to see from a peripheral neuropathy study in vivo. This assay provides human results up to 75% faster than with traditional animal studies.
Neurotoxicity is a major concern during the drug development process and a major cause of clinical drug attrition. However, many drugs that perform well in preclinical animal studies fail during clinical trials. For Antibody Drug Conjugates, the use of human cells in preclinical testing is essential, because targets are often not present in animals.
In this webinar, Dr. Sharma also spoke about the use of iPSC-derived peripheral neurons, which enable the modeling of disease pathophysiology, both to identify drug targets and perform drug screening. By using Human Schwann Cells along with the iPSC-derived neurons, we have created a high-throughput assay and can predict clinical outcomes. Schwann Cells play a major role in peripheral neuropathies. We presented our research comparing co-cultures and monocultures for peripheral neuropathy preclinical research at the Society of Toxicology's Annual Meeting in March 2020. Our analysis showed that the co-cultures were more sensitive than monocultures across all parameters tested, leading to the conclusion that co-cultures are more sensitive in mimicking the underlying neurotoxicity mechanism compared to the culture using only neurons.
You can watch the entire webinar here. 
Our Human Peripheral Co-Culture Assay measures multiple morphological outputs, including neurite length, number of branches, number of processes, Schwann Cell area, total number of cells, total number of neurons, and total number of Schwann Cells. 
AxoSim is a Neurodiscovery CRO that empowers advancements in human neuroscience and accelerates the drug development process through our drug discovery platforms: NerveSim™ and BrainSim™ as well as our SimLab Services, including our Human Peripheral Co-Culture Assay. If you would like to learn more about these platforms and our assays, please contact us at bd@axosim.com.