Press Release: AxoSim Announces the Award of over $870,000 in Federal Grants
News and Blog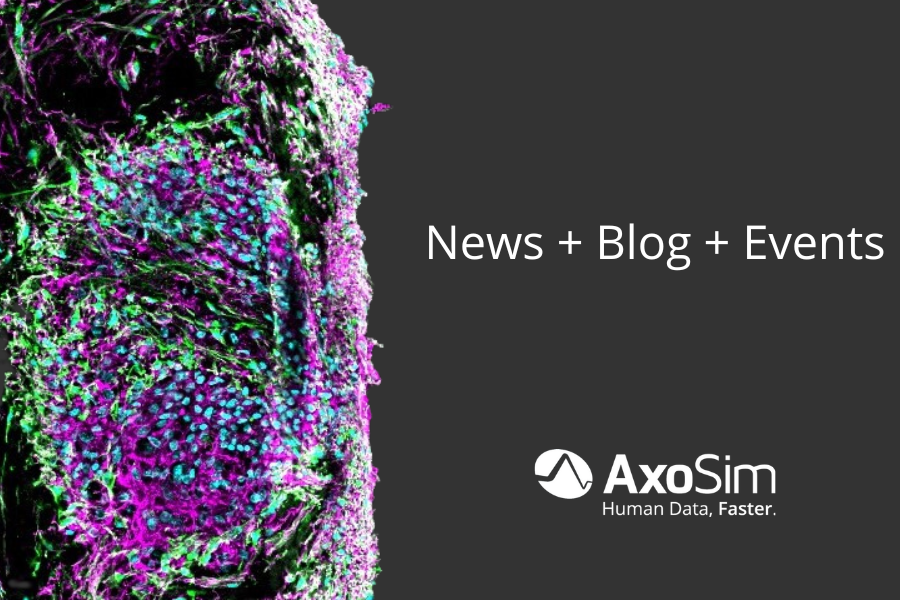 October 30, 2020
–Two grants from the DoD Congressionally Directed Medical Research Program and the National Institutes of Health awarded to AxoSim– 
–The CDMRP grant will support the development of a ALS NerveSim™ model to mimic the pathology of human motor nerves of patients–
–The NIH SBIR grant will be utilized to expand the BrainSim™ platform in multiple species–
AxoSim is excited to announce the award of two federal grants from the Department of Defense Congressionally Directed Medical Research Program (CDMRP) and the National Institutes of Health (NIH) totaling over $870,000. The CDMRP grant involves utilizing the company's NerveSim™ platform to establish a clinically-relevant model of amyotrophic lateral sclerosis (ALS), specifically mimicking the human pathology of ALS. The NIH Small Business Innovation Research (SBIR) grant will utilize the company's existing BrainSim™ platform to expand into multiple species, allowing the company to now compare chemical and drug effects across human and rodent species.
Using the existing NerveSim™ platform, the ALS NerveSim™ model will mimic the pathology of human motor nerves of patients suffering from ALS. ALS is a notoriously difficult condition to treat and more than 50 clinical trials have yielded only two therapies for the treatment of ALS, though neither is disease-modifying. With no translatable preclinical models available to drug developers, this project aims to fulfill a significant unmet need for a clinically-relevant model of ALS. The project employs patient-derived induced pluripotent stem cells (iPSCs) with a SOD1 genetic mutation, the most common gene associated with the familial form of the disease.
AxoSim's BrainSim™ platform will be further refined to mimic the developing rodent brain and will be used for screening of potentially neurotoxic compounds. Using 3D image analysis and genetic assays, this model can also quantify the individual cell types in the spheroids, such as neurons, astrocytes, and oligodendrocytes. By evaluating myelin levels, BrainSim™ can be used for screening compounds that impact myelination. Electron microscopy (EM) can analyze cellular features and microelectrode arrays (MEA) can test the electrical activity of neurons. 
"Both of these grants will enable our team of scientists at AxoSim to continue providing more effective and clinically relevant screening techniques for debilitating neurological conditions and assessing safety of drugs and chemicals on the nervous system. Our BrainSim™ and ALS NerveSim™ platforms have the potential to revolutionize neurodegenerative drug discovery," said Lowry Curley, PhD, AxoSim Co-Founder and CEO. 
Support from federal grants including the NIH has been crucial to the development of the NerveSim™ and BrainSim™ platforms. Past grants awarded by the NIH include Phase 1 and 2 Small Business Technology Transfer (STTR) Grants from the National Center for Advancing Translation Sciences, an SBIR Phase 1 Grant from the National Institute of Environmental Health Sciences, and multiple NIH grants while still in their academic laboratories at Tulane University and Johns Hopkins University prior to AxoSim's licensing of the technologies. 
About AxoSim, Inc.
AxoSim, Inc. is a premier provider of neurological drug discovery platforms. The company's proprietary BrainSim™ and NerveSim™ platforms provide accurate, predictive models of the human peripheral and central nervous systems, rapidly delivering clinically actionable human data early in the drug development process. AxoSim's platforms have applications for drug efficacy, disease modeling, and toxicology. Learn more at axosim.com.
Press Contact: pr@axosim.com
General Inquiries: info@axosim.com