SimChat | Q & A with AxoSim Research Scientist Lise Harbom, PhD
News and Blog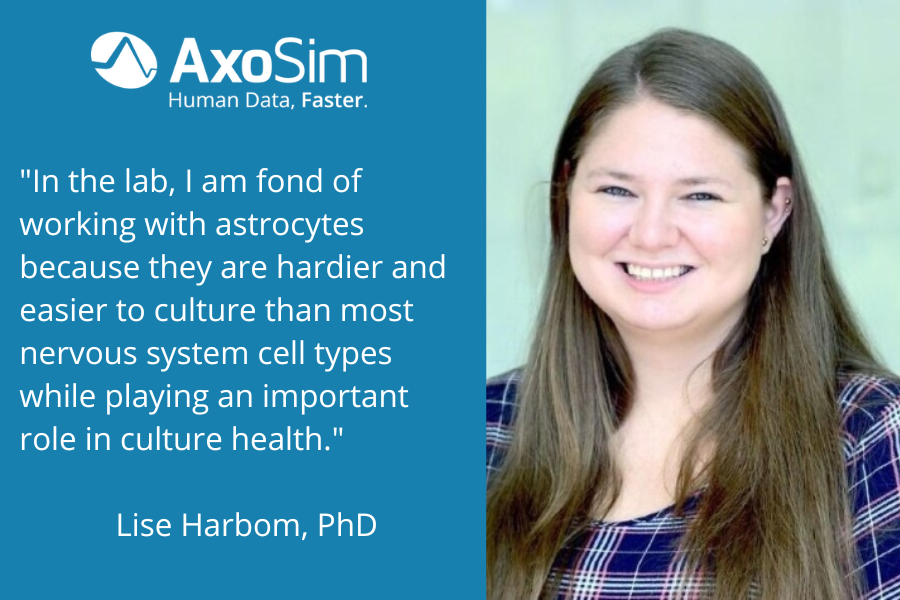 Meet AxoSim Research Scientist Lise Harbom, PhD
Tell us about yourself.
I attended Vanderbilt University for undergraduate studies where I double majored in Neuroscience and French. I also graduated with honors in Neuroscience, completing an undergrad thesis mentored by Randy Blakely, focusing on behavioral phenotypes in mice resulting from early life stress relating to immune system regulation of serotonin transporters.
My doctorate is from the University of Virginia, where I was mentored by Mark Beenhakker and Mike McConnell.  I studied the electrophysiological properties of iPSC-derived neuron cultures, primarily through single-cell patch clamping.  It was both challenging and rewarding to work with iPSC technology soon after its development.
What drew you to AxoSim when you first applied for a position?
I was drawn to the translational nature of AxoSim's work, and ready to explore scientific research in an industry setting.  New Orleans also didn't seem like a bad place to live!
What about working at AxoSim and in Neuroscience Drug Discovery appeals to you?
The translational gap between animal model-based research and clinical success causes the grand majority of neurological drug trials to end unsuccessfully, producing a great deal of discouragement and wasted time for patients who are already struggling with often devastating neurological disorders.  Meanwhile, other drug variants which may have been more successful are never tested in a human setting.  This process obviously needs to be improved, and one way to accomplish this would be more rigorous pre-clinical testing in human cells.  Accordingly, I find the work AxoSim is doing to develop these assays to be extremely important.  Every small victory is a step towards our goals which is something our team can keep in mind even when the day-to-day science can be frustrating at times.
What is your favorite cell and why?
Aesthetically speaking, it is hard to beat a pyramidal cell.  Seeing the drawings of Ramon y Cajal in introductory neuroscience courses made a big impression on me.
In the lab, I am fond of working with astrocytes because they are hardier and easier to culture than most nervous system cell types while playing an important role in culture health.
When not in the lab, where can we find Lise?
I enjoy participating in community theater productions whenever I can, as well as singing and playing the bluegrass fiddle and mandolin.  I'm also an avid crocheter and love to relax with my two exceedingly handsome cats, Ollie and Pico, and very enthusiastic dog, Jane.