SimChat | Meet AxoSim's New Sales Manager | Chelsea Richardson
News and Blog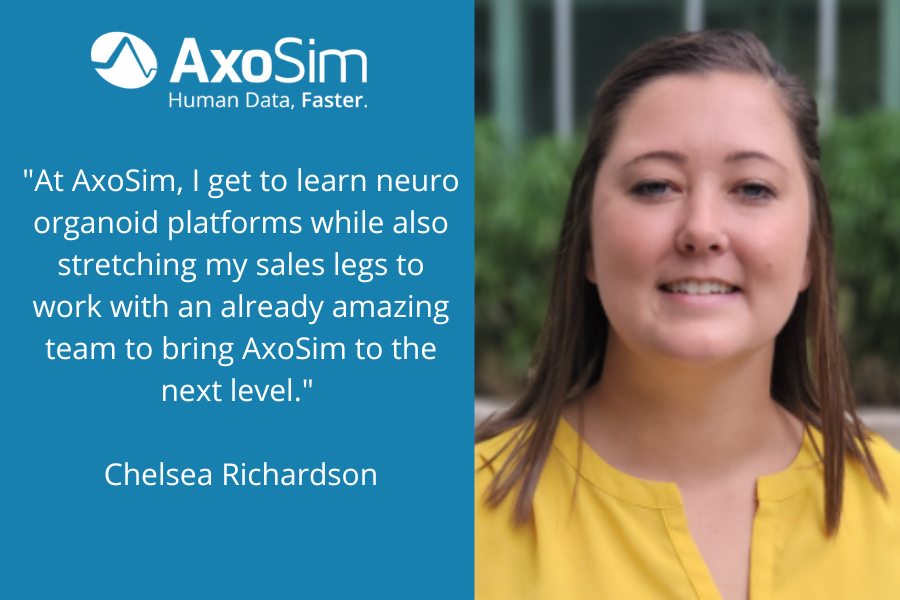 AxoSim is pleased to welcome Chelsea Richardson as our news Sales Manager. She holds a B.S. in Kinesiology and a minor in Communication from Purdue University. She began her career as a research assistant in basic research across respiratory, cardiology, and neuroscience fields. After several years in research, she transitioned into a Scientific Sales Specialist role for a pre-clinical research product sales company to further fine tune her passion for neuroscience across pre-clinical models from mouse to NHP. She is thrilled to be at AxoSim and sat down with us for a Q&A.
What excites you about AxoSim and this role?
I am most excited to get back into the neuroscience field with such an innovative biotechnology company! I have worked in basic research/academia, product sales for pre-clinical research applications, and neuroscience marketing and content creation and know that my passion is in the neuroscience field. At AxoSim, I get to learn neuro organoid platforms while also stretching my sales legs to work with an already amazing team to bring AxoSim to the next level.
Why are you passionate about Neuroscience? How does this role help you fulfill that passion?
The unknown of it all. Our brains are still such black boxes needing to be fully understood and I enjoy the idea of being a part of that. Throughout schooling, I have been drawn to the understanding of control–control of movement, control of breathing, and so on. I find this fascinating, and at AxoSim, we can look at how the nervous system is changing, adapting, or trying to control responses to drugs or therapies in our various testing platforms.
What makes AxoSim's Drug Discovery Platforms enticing?
AxoSim's platforms are revolutionary. The ability to gain human insight faster and more cost effectively means we as a whole can create better drug therapies more efficiently. The forward thinking of the AxoSim team drives progress that can be seen throughout each platform offered. Our 2D assays allow for high throughput screening providing insight into a focused 3D organoid experimentation to better evaluate possible side/off target effects of therapeutics.
What are some of your aspirations as AxoSim's Sales Manager? 
As AxoSim's Sales Manager, I plan to emphasize the expertise of all our employees. The quality of AxoSim comes from each individual's drive and passion for the neuroscience field. As part of this team, I will showcase each and every one of my colleagues' expertise being combined to provide top of the line data services to our customers. I would like to see us become a "household" name for neurotoxicology and neuro discovery studies as well as neurodegenerative disease modeling in the 3D environment.
When not working, where can we find Chelsea?
You can't! I am always out of the house backpacking, hiking, camping, and/or kayaking anywhere/time I can. I love being outside, and when adventuring is not possible I hang out at home with my various pets–Scout, Birdie, Tippie, George, Sox, Little O, Duck, Kitten, Snoozey, Pico, and Sam (2 dogs, 3 cats, 3 turtles, 3 chickens, respectively).