Explore Platforms Mimicking the PNS and CNS at AxoSim's Webinar on June 30th
News and Blog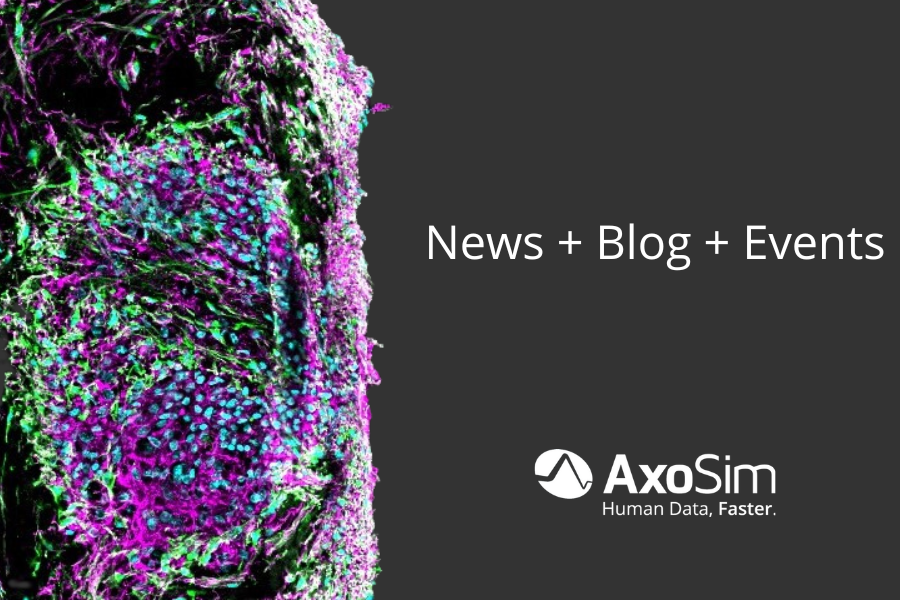 On Tuesday, June 30th, at 12pm EST AxoSim will be hosting a Webinar: NerveSim™ and BrainSim™ Platforms for Neurological Drug Discovery and Toxicology Screening. This hour long webinar will explore innovative platforms mimicking the CNS and PNS, which can be used in the drug discovery process. 
Lowry Curley, PhD, the CEO and Co-Founder of AxoSim will be speaking about a recent study recapitulating peripheral neuropathy in four common chemotherapeutics using AxoSim's Rat NerveSim™  platform. This study showed NerveSim™'s ability to simulate peripheral neuropathy across four compounds, which present peripheral neuropathy differently. NerveSim™  is a biomimetic system that mimics axon growth, as well as the first in vitro model to collect electrophysiological and histomorphic metrics that are used clinically to assess nerve pathology. The platform is available in hiPSC, rat, and mouse models. The NerveSim™ platform can also be used for disease modeling using patient-derived iPSC lines. 
Helena Hogberg, PhD, is the Deputy Director of the Center for Alternatives to Animal Testing (CAAT) at the Johns Hopkins Bloomberg School of Public Health. She will be speaking about the latest research using the BrainSim™ platform, including a paper published on June 26, 2020 regarding the neurological effects of COVID-19 on the human brain. The BrainSim™ platform contains all cell types and microglia can be added. BrainSim™ myelinated organoids are reproducible in size and composition. BrainSim™ myelinated organoids have also been used in research related to developmental neurotoxicity, autism, demyelination, and neurodegenerative diseases: Parkinson's and ALS. 
This webinar will be interactive and the two presentations will be followed by a Q&A session. Please register for the webinar here.
AxoSim is a Neurodiscovery CRO that empowers advancements in human neuroscience and accelerates the drug development process through our drug discovery platforms: NerveSim™ and BrainSim™.  Let's explore how we can collaborate. Send us an email at info@axosim.com