Case Study: AxoSim's Human Peripheral Co-Culture Assay
News and Blog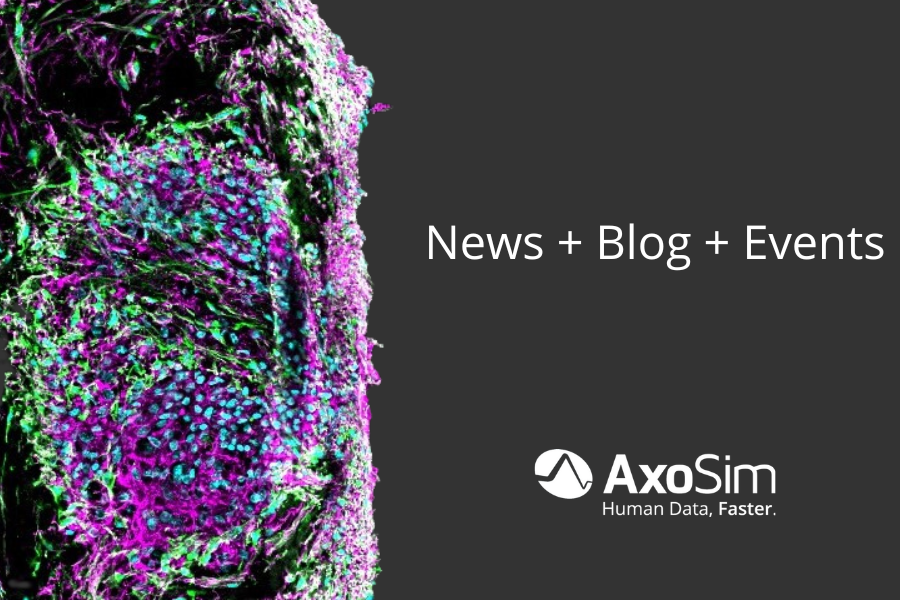 High Throughput, Human Data: AxoSim's Human Peripheral Co-Culture Assay
In addition to our 3D NerveSim™ and BrainSim™ models, AxoSim also performs a variety of cell-based 2D assays including our new Human Schwann Cell and iPSC-derived neuron co-culture assay for peripheral neuropathy. The human peripheral co-culture assay enables our clients to achieve faster results at a lower cost with human data, providing another option for predicting peripheral neuropathy with various drug modalities, including antibody drug conjugates and small molecules. This assay provides accurate results up to 75% faster than traditional animal studies. 
On Wednesday, September 30, 2020 at 1pm EST we will be hosting a webinar to explore the science behind this assay. Please register here.
AxoSim was hired by one of the world's largest biopharmaceutical companies to create a high-throughput human co-culture model to predict chemotherapy-induced peripheral neuropathy. Since there are no human in vitro models that can reliably predict chemotherapy-induced peripheral neuropathy, the creation of this assay was vital to understanding any neurotoxic effects caused by drugs in preclinical development. 
In this study, we tested and measured the effects of compounds on cellular growth parameters including neurite length, neural cell branches, neural cell number, total cell number, and Schwann cell number. Paclitaxel and Oxaliplatin, two chemotherapeutics known to cause peripheral neuropathy, were used as positive controls to validate this system. By combining this cell-based approach with a high-content screening system, we were able to determine neurotoxicity in a much faster and inexpensive manner as opposed to traditional animal studies.
Across all parameters, the inhibitory and lethal dose concentrations were found to be significantly different between co-cultures and monocultures. Additionally, by exposing the co-cultures and monocultures to ADCs manufactured using Monomethyl auristatin E (MMAE) and Monomethyl auristatin F (MMAF), possible mechanism of action was observed as the bystander activity from the neuronal support cells, which was previously also witnessed in the clinic. Camptothecins administered as small molecules did not show neuropathy using this assay, indicating that the Human Peripheral Co-Culture Assay translates well to clinical data. These observations show the importance of using glia along with neurons for the most accurate results. 
AxoSim is a Neurodiscovery CRO that empowers advancements in human neuroscience and accelerates the drug development process through our drug discovery platforms: NerveSim™ and BrainSim™ as well as our SimLab Services, including our Human Peripheral Co-Culture Assay. If you would like to learn more about these platforms and our assays, please contact us at bd@axosim.com.